Ontario's MicroFIT Green Electricity from Solar Energy
MicroFIT is a program to sell all the power you produce to the province of Ontario, at a premium price. The Green Energy Act provides the mechanism for individuals to generate electricity on a small scale and obtain a dependable rate of return that the OPA states is about 11%.
The benefits in addition to reducing your carbon footprint are:
This is a good, very low risk environmentally friendly source of income, secured by a 20 year Ontario government backed contract.
This can be a better investment than our RRSPs, and has a highly predictable rate of return on investment.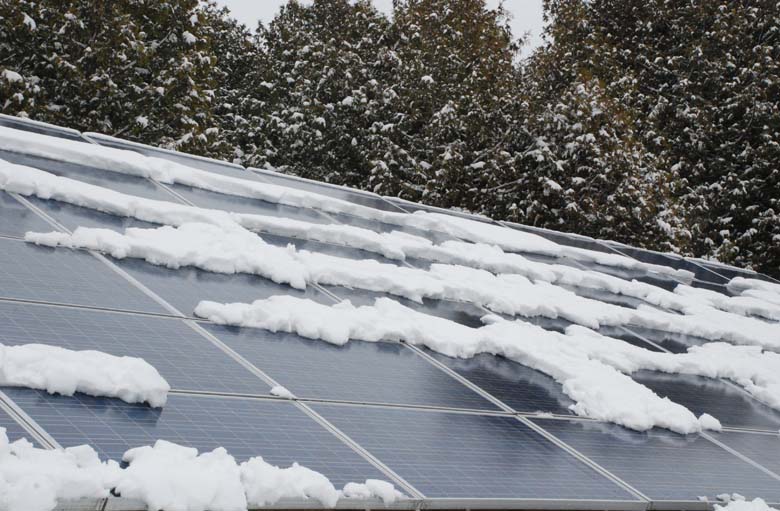 Who can participate? Most Ontario property owners, subject to grid capacity limits. The hydro utilities have rules to limit the amount of solar power on each part of the grid. Hydro One has a 7% rule that they apply. If there are too many solar installations in your area, they may state there is insufficient capacity. There are a significant number of conditions, please visit our who can qualify for microFIT page.
MicroFIT Details

The Ontario micro-FIT program provides a streamlined process for home owners to install a Solar Panel system of up to 10kW in size and pay the producer a guaranteed price currently at $0.29.4 (rooftop) or $0.214 a kWh for a 20 year contract term. Once installed some types of Solar Photovoltaic (PV) systems have no moving parts and requires no maintenance other than washing the glass a couple of times a year, and sometimes clearing snow from the panels. With a secure contract, banks view that this is a stable business and are willing to loan home owners the capitol to install such a system. This can be a great source of retirement income, while helping to displace coal-fired electricity with 100% green electricity. Your participation helps improve our planet's air quality. Note that there is no subsidy or grant to reduce the cost of the system, the only incentive is the great price that is guaranteed for the duration of the contract. These prices apply to OPA offers responding to applications received after Jan 1, 2016. There will be a new rate for microFIT of 6kw or less, the rate will be posted some time in 2016.
A list of the important points to qualify:
Our services for microFIT clients
Site assessment survey to determine if an installation is practical, which type, and the amount of revenue that is possible.
Supply a custom kit of parts required for your site for DIY installation. These can be delivered anywhere in Ontario.
Consulting services to mentor the owner in a DIY installation.
Complete installations.
The completed system results in a stable, government guaranteed income stream that also helps to green our planet.
For a financial perspective of microFIT solar installations, click here.
With the different price paid for ground mounted systems, click here for more information to decide between ground and rooftop installations.
We can help you successfully participate in this program. Our site survey services will provide good advice to help you decide if this is practical for your home or cottage. We locate a suitable location to mount the solar panel array and calculate the revenue it could generate. A south facing roof with a 30 to 45 degree slope is a good choice. The impact of shading is calculated, to determine how big a percentage of the potential solar energy can be used by the panels. Not all sites are suitable, shade can be a big problem. We can supply you with a kit of all the specialized solar parts that you need for doing your own installation. Or we can supply a kit, and if you are in Eastern Ontario, come onsite and help you put it together, or just get you started.
Recent microFIT changes:
The ESA has announced "Effective January 1, 2014, AFCI protection is required for Photovoltaic systems with dc source circuits, dc output circuits, or both, on or penetrating a building and operating at a maximum system voltage of 80 V or greater". This will apply to most microFIT and net metering installations.
The Ontario content rule has been changed with version 3.0, so that non-Ontario made inverters and solar modules can be used.
We provide service and diagnostics for existing solar panel systems that are either grid-tied or off-grid.
We provide consulting services to those who would like to buy components and install the system themselves, and need support or hands on assistance in specific areas of design or deployment.
We also sell kits of panels, inverters and roof racking systems to DIY customers at very attractive prices.
Training and group education on the microFIT program for Photo-voltaic electricity generation.
Click here for for pictures of various types of solar panel mounting systems
The typical steps in a turnkey solar installation. (A Sales company or contractor provides all the components and does all the work)
Click here for a tutorial on tracking solar panel mounting systems.
Click here for an index of the tutorials available on this site.